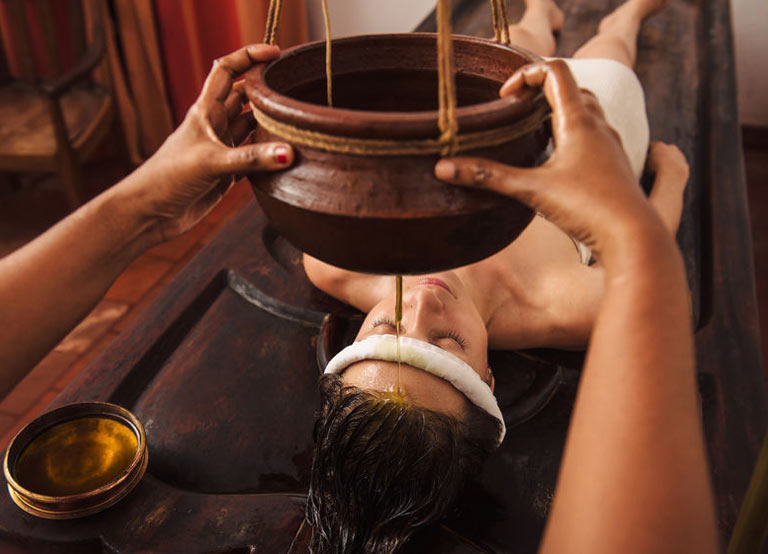 Shirodhara
Shirodhara, from the Sanskrit words "shiras" (head) and "dhara" (flow), is a gentle constant application of warm oil on the third eye or chakra point just above and between the eyebrows.

When the warm oil is gently poured on your forehead, it induces a deep state of relaxation, soothes the Nervous System, stimulates the endocrine system (pituitary gland) and awakens the third eye, a divine intervention to wash away tension and help ease physical and mental aches and pains. It also balances one's energy level.


If you are in need of rest and relaxation, the treatment will provide you that. If you are well rested the process will enhance your clarity and perception.
Shirodhara increases immunity by relieving stress and worry, and balancing the Ayurveda mind - body types or doshas so that your constitution remains strong, it can also relieve symptoms of anxiety, headaches as well as depression . It regulates mood and gives feelings of pleasure and relaxation.
Shirodhara may assists with the following conditions:

Post Traumatic Stress Disorder: Shirodhara reduces excess vata dosha which is the primary dosha out of balance in PTSD, the treatment will deeply soothe the Nervous System thus it helps to reduce the symptoms of PTSD.

Insomnia and Shift Work Sleep Disorder (SWSD): The treatment itself is traditionally known for its ability to assist with sleep problems, so when Shirodhara is given with milk has also proven effective in treating insomnia. This will stimulate the pineal gland which produces melatonin, the regulator of wake - sleep cycle.

If your wake - sleep cycle is out of balance, and you are a frequent flyer shirodhara can assist in removing fatigue, restoring energy and re - establishing harmony in the doshas or constitution.

Hypertension: This treatment has proven effective in lowering blood pressure
.